Largest Christmas Cake!
Posted on
Largest Christmas cake-world record set by Uday Samudra hotel.
I love a traditional fruity Christmas cake including all the yummy marzipan and icing, it's almost the best thing about Christmas for me! But, even I couldn't eat my wa through this very large Christmas cake made in India, read on to find out more...
Who baked this enormous fruit cake?


[Jan 17]KERALA, India--Uday Samudra (UDS),the most happening hotel in Kerala, created the new world record of the largest Christmas cake by making a cake of 30 ft length, two ft width and weighing 2,500 kgs!

The cake was cut into 22,000 portions on Christmas Eve, December 24, 2007 at 8 pm.

The cake was distributed to poor homes and various charity organisations in the city.

The challenge was to beat the present record of Mercure Hotel in Bangkok, Thailand, which was of 27.6 feet height and was cut into 19,212 portions.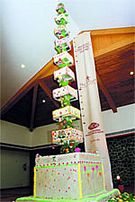 This Christmas I'm delighted to offer you a range of Cocktail Cupcakes and Mulled Wine Cupcakes , please take a look at my Facebook page to find out more!