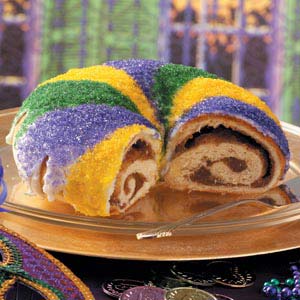 A king cake (sometimes rendered as kingcake, kings' cake, king's cake, or three kings cake) is a type of cake associated in a number of countries with the festival of Epiphany at the end of the Christmas season; in other places, it is associated with the pre-Lenten celebrations of Mardi Gras/Carnival.
What started out as a dry French bread type dough with sugar on top and a bean inside roughly 300 years ago, is now a sweet, sugary and iced Danish type dough that is braided with cinnamon inside and a plastic doll underneath. King Cakes are made of a cinnamon filled dough in the shape of a hollow circle. They have a glazed topping and are sprinkled with colored sugar. Hundreds of thousands of King Cakes are eaten in New Orleans during the Carnival season.
The cake often has a small plastic baby (said to represent Baby Jesus) inside (or sometimes placed underneath), and the person who gets the piece of cake with the trinket has various privileges and obligations.
The "king cake" takes its name from the biblical three kings.
Traditionally, a small plastic or porcelain baby is hidden into the king cake. It is usually green, gold, or purple to represent the colors of the holiday. Originally, the baby was placed into the cake to symbolize baby Jesus. Fava beans were also used to represent Jesus.
Today, the baby symbolizes luck and prosperity to whomever finds it in their slice of cake. In some traditions, the finder of the baby is designated "king" or "queen" for the evening. That person is also responsible for purchasing next year's cake, or for throwing the next Mardi Gras party.
Many bakers have recently been placing the baby outside of the cake, and leaving the hiding to the customer. There is a potential of customers choking on or swallowing the baby, and bakers want to stay clear of this responsibility.
There are many different recipes for king cake. However, the most common ones include: milk, butter, yeast, water, brown and white sugar, eggs, salt, nutmeg, flour and cinnamon. The frosting is typically made from confectioner's sugar, water, lemon juice, and colored sugar crystals.[
The colors of the king cake originally came from the Christian Religion. The purple symbolizes justice, the green symbolizes faith, and the gold symbolizes power. The three colors honor the three kings who visited the Christ child (Jesus) on Epiphany, the 12th day after Christmas.